Single Cylinder Research Engine
SC-1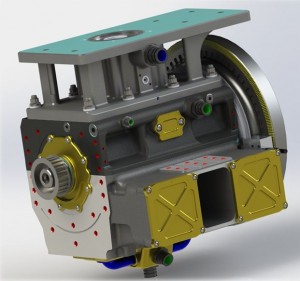 The SC-1 is a research grade modular platform for combustion analysis and air flow development. Born out of the need for a reasonable cost test platform with easily serviceable components, the SC-1 has been designed to be a rugged, data-consistent, flexible work-horse.
With easy access for sensors, the SC-1 is a mechanical breadboard ready for testing with multiple fuels, 2-stroke or 4-stroke combustion and multiple head configuration possibilities. RPM is not limited by balance mechanisms, unlike other manufacturers' research engines. With swappable combustion chambers, bore and stroke, cylinder liners, balance mechanisms, the SC-1 is a truly flexible research engine.
More…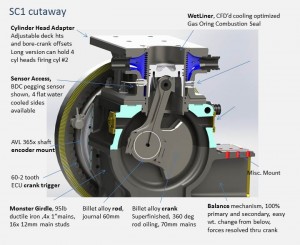 100% fully balanced primary and secondary forces with simple bolt on weight changes. No rotating balance shafts. RPM not limited by balance mechanism. Balance forces resolved thru crank rather than block, less friction.
65 to 108mm stroke
65 to 107mm bore
Can use stock inline 4cyl heads (firing cyl. #2) and their cam drives as well as custom single cylinder
Layered horizontally split, o-ringed construction, 16x 12mm main studs, 1″ thick main webs, 330lbs ductile iron short block
Separate oil/water/electric auxiliaries, separate cylinder head and bore cooling, oil dry sump
Replacement parts easily available
Lots of sensor access
Improved features and big cost advantage compared to AVL/Ricardo/FEV, and a cost/benefit ratio that makes DIY singles seem disadvantaged.
Specs
| Specs | |
| --- | --- |
| Bore | Range 65 ->107mm |
| Stroke | Range 65 ->107mm |
| Peak Cylinder Pres. | 300 bar |
| Max RPM | Piston, rings, and valve-train dependent, typ. < 9250 |
| Weight/Materials | 330lbs, (150kg), ductile iron, 4130, 4340, 9510 |
| Block Construction. | Layered horizontally split, o-ringed |
| Mains/Studs | 4x (1 in. thick) mains, 16x 12mm alloy studs |
| Main/Rod Journals | Conventionally split bearings, coated, 70/ 60mm |
| Cooling | Separate head and bore water cooling |
| Oiling | External pump, dry-sump crankcase |
Pictures
FAQ
Options
PDF